Pleasant Prairie locals take great pride in the beauty, peace and adventure offered on our trails. Whether you're here for an athletic event at the Pleasant Prairie RecPlex or relaxing at one of our award-winning hotels, the natural world is calling your name to explore our nature trails, biking trails and easy going walking paths. The last trail we feature is one of the most dog-friendly in the area!
Reconnect with Nature on This Pleasant Prairie Trail
Hackbarth Trail - 1.9 miles
Of all the trails in Pleasant Prairie, Hackbarth Trail tops the list for the most diverse and well populated with flora and fauna. The main trail of this wooded area branches into a series of naturally surfaced or wood-chipped trails, starting from the Lake Andrea beach pavilion and heading northwest through the woods and wetlands.
Don't miss the photo opportunities available at the trail's observation deck, boardwalk and bridge. Photographers, sunrises and sunsets that overlook the Des Plaines River are worth the trip alone!
Kenosha County Bike Trail - 3.66+ miles
Start the Kenosha County Bike Trail (KCBT), a former railway corridor, near 89th St. and 30th Ave. near Anderson Park in Kenosha. Head south through Pleasant Prairie to the Wisconsin/Illinois State line where it connects to the Robert McClory Bike Path. Along the way, be sure to stop in Pleasant Prairie's Rolling Meadows Park for a picnic. We also highly recommend snagging a beer at Gordy's Prairie Pub or a drink and a bite to eat at Starlite Club on your way down south, or on your return!
As you continue heading south, you'll intersect 116th St. The Pleasant Prairie History Museum, also on 116th St., is a short detour away from KCBT. This FREE museum hosts new exhibitions regularly (note: donations are always welcomed)! We promise it will be worth your time. Fun note - the Chiwaukee Prairie Ramble Trail runs alongside 116th St., and it intersects with KCBT near 32nd Ave.
KCBT is dog-friendly, so your furry bud can enjoy the sunshine at your side as you pedal your way through a fantastic adventure!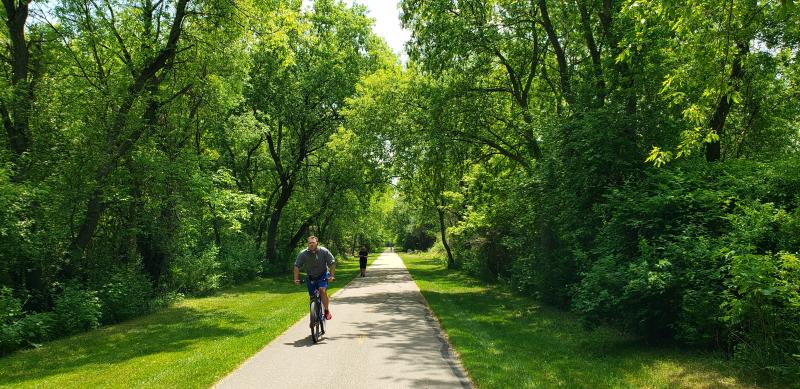 On the Road Again, Goin' Places That I've Never Been
Lake Andrea Paved Path (uninterrupted loop) - 2.3 miles

Located in Prairie Springs Park, the Lake Andrea Paved Path is an uninterrupted loop that features a multi-use path. This leisurely trail is wonderful for pooches, family bike rides and a wide variety of outdoor recreation!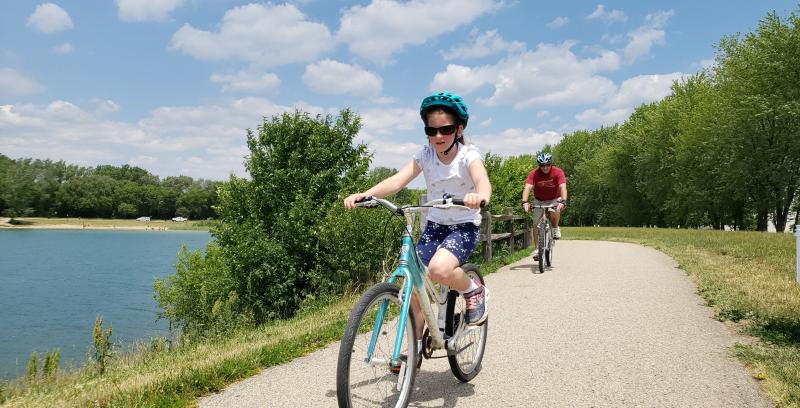 Ingram Park

Ingram Park is well loved by locals for its quaint pond and the short trail that wraps around it. Ingram Park is a great place to bring Fido, as there are two dog parks (both fenced, with one that has its own little pond in the shape of a dog bone!). The park features memorial trees planted in honor of each of the Kenosha County servicemen who lost their lives in the Vietnam War.

Land for this 30.7-acre park was donated to the Village by John and Dorothy Ingram in December of 2008.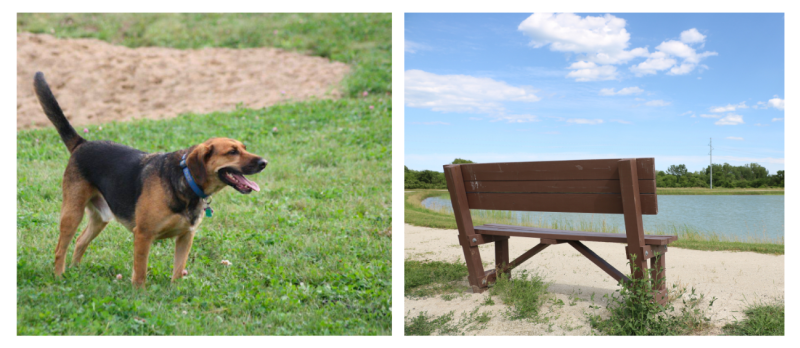 (Photo of dog by Village of Pleasant Prairie)
If you aren't quite sure which trail is right for you, flip through our Mini Travel Guide. It includes our trail guide, hotel information, area attractions, dining ideas, hidden gems and a map of the Village. See you out on the trail!