School is closed today; whether it was planned or not, it still leaves our household's normal routine in a minor state of chaos.
Between my husband being a first responder and my line of work that periodically has evening/weekend events, our "normal" requires us both to be flexible. Most days we feel like we have perfected this art of balancing different work schedules. 
Today isn't like most days though.
Marty worked well into the early morning, coming home to kiss me and the kids good morning before heading to bed for a few hours, only to go right back in when he wakes up. My fellow first responder families are all too familiar when situations like these happen, leaving you to quickly sort out details for childcare so that your typical workday goes uninterrupted. 
In my case, I was able to work from home today. Not taking this for granted (shoutout to my fellow #workingmom and #bossbabe, Michelle, for being so understanding!!), but also wanting to have the best of both worlds, I needed to utilize local resources for me to knock today out of the park.
Step 1: Celebrate that there is no school today (and that I get to spend the day with them!) over breakfast
The first place that came to mind was Corner Bakery. Not only is this place impeccably clean, but the affordable $5 full breakfast kid menu made this decision a no-brainer. Their menus are multi-purposed as a coloring booklet with a free pack of crayons.
As the kids were devouring their breakfast, I sent a few emails on my phone while prioritizing what I would get done in the morning versus what could be done during their naps after lunch. I filled up my to-go cup with more coffee (Corner Bakery has easily become my favorite chain coffee...seriously, it's that good!) as I hyped up the kids for our next adventure.
Step 2: KidWise PlaySpace
Th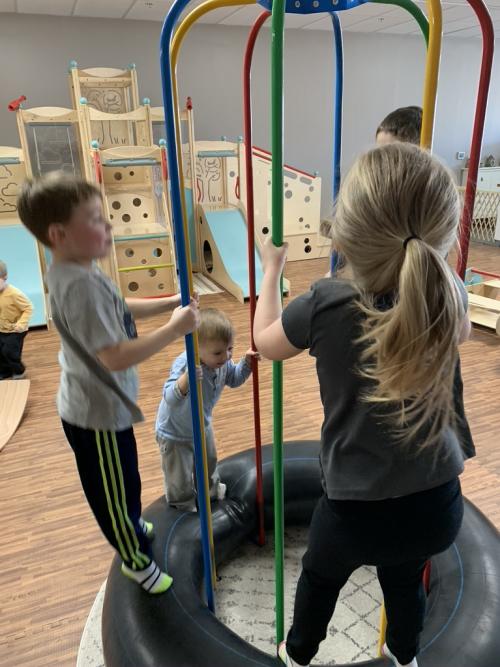 e mere mention of KidWise Playspace had all three cheering. I've taken them here before, but their reaction had me thinking we should probably visit more often.
KidWise is the perfect size for an indoor play space. Between the open-concept of the space and the quality/variety of play equipment, it allows me to feel comfortable focusing on work while they play. They have several pricing options (you pay for kids only; adults are free!) and admission is good for the entire day, regardless of how many times you and your kids leave for lunch, naptime, etc...
Upon entering, the border between "playspace" and snack break area is obvious with the raised counter (with outlets!) and chairs. It is this spot, in particular, that is so valuable to parents who need to work guilt-free. Your kids can see you, and you can see them so if touching base is needed, you're quickly able to do so without issue. Peace of mind = quality work output..bingo!
Between my work breaks to play with them, and their absolute excitement to play on all of the different equipment for hours, the kids were in great spirits, but ready for a big lunch, and a full nap. Perfect timing to finish out my workday in the comforts of home!
Despite working out of the office not being my "normal," I felt like I was able to accomplish everything I wanted to and got to spend extra time with my kids. If I were a #WAHM (Working At Home Mom) I could see myself doing what I did today as a weekly tradition.
Pleasant Prairie has everything you need to balance work and family life - regardless of what life throws your way that day!
Fun, Kid-Friendly Ideas