Jelly Belly Warehouse Tour
NOTICE: The Jelly Belly Wisconsin Visitor Center is now permanently closed. We invite you to explore other activities and things to do in the area.
Take a trip down memory lane and read about what was once offered at the Jelly Belly Wisconsin Visitor Center:
These complimentary tours are a must-do excursion for candy fans of all kinds, from families with kids to social media gurus hungry for cute and colorful photo ops. No matter who you bring along on this jelly bean jaunt, your group will enjoy the delicious history of Jelly Belly and learn a little bit about candy making past and present. You'll also get to taste-test oodles of Jelly Belly® jelly beans and jump, imaginations first, into candy land as you discover why it is The Original Gourmet Jelly Bean®.
Jelly Belly Tour Highlights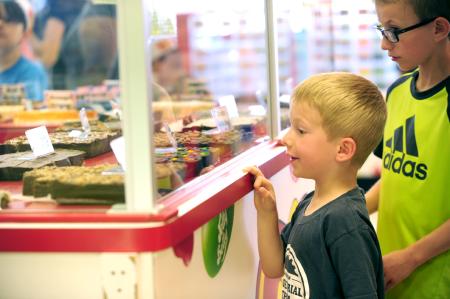 From your first step through the doors of the Jelly Belly Center, you'll enter a cheery space of floor-to-ceiling color. The walls are a vibrant rainbow of sunny yellow, ostentatious orange, grassy greens, true blues, real red, purple, violet, and shocking pink.
Tours begin at Jelly Belly Station, and from the very start, the Jelly Belly tour is full of hands-on fun, games, and tantalizing jelly bean tastings. Try out a sampling of Jelly Belly jelly beans in fruity flavors like blueberry, green apple, kiwi. and lemon lime. Or venture into richer flavors like cappuccino, French vanilla, toasted marshmallow, and chocolate pudding. Try one at a time or test your Jelly Belly bean mixology skills by combining flavors. Best of all? These are just some of Jelly Belly's official flavors. The fun has only just begun at Jelly Belly Station with the first sampling counter, interactive games, and exhibits.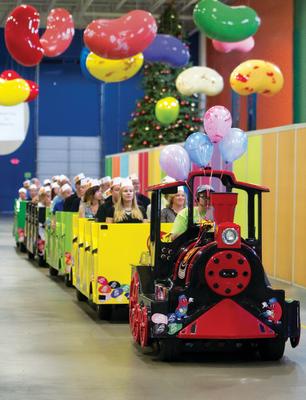 Next up, it's all aboard the Jelly Belly Express! Take a train trip back in time to the early days of this Gilded Age candy maker through today's wide and wondrous world of all things Jelly Belly.
Once you've donned on your stylish Jelly Belly hat and boarded a passenger car, you're off on a magical tour of the warehouse. Leading the way from the train's engine car, your knowledgeable guide will tease you with Jelly Belly facts. The train makes several stops along the way where you can watch 4K/HD videos detailing how Jelly Belly jelly beans are made.
Plus, many of the exhibits include classic candy making equipment the company used in the past alongside breathtaking holiday displays, depending on the time of year you visit. Christmas trees with twinkling lights, piles of presents, and yuletide cheer deck the halls of the warehouse in the winter. In the spring, the Easter bunny and friends are in the house in pastoral pastels.
Along your journey, look for giant Jelly Belly jelly beans like colorful clouds of sugary delight floating above your head. As the Jelly Belly Express wends its way through the warehouse, try to guess at the flavors by their shades and spots. A light yellow bean with golden speckles is probably buttered popcorn! Be on the lookout for candy corn along the way as well, as it's one of the company's legendary confections dating back to the turn of the 20th century.
Don't miss the Jelly Belly Chorus Line Theater. High up on their stage, an array of jocular Jelly Belly characters wear their chef's hats as they dance and kick in unison.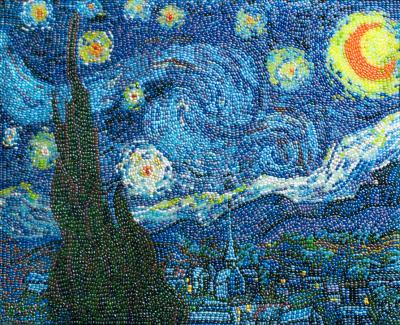 Along the train tour route, you'll get to see Jelly Belly Art. The Jelly Belly Art Gallery includes portraits of celebrities, reimagined famous paintings, and original works created entirely out of Jelly Belly jelly beans. Masterfully assembled, the Jelly Belly jelly beans look like beads or tiles laid out in pictorial mosaics. From Queen Elizabeth II and Elvis to Van Gogh's Starry Night, Jelly Belly Art is super impressive. Don't miss the President Ronald Reagan portrait. He was such a big fan of Jelly Belly beans that he kept the Oval Office and Air Force One stocked at all times, and even made them the first jelly beans in space aboard a NASA shuttle.
Another popular exhibit on the tour is the Jelly Belly Couture. You'll see how fashion designers have used jelly beans to create colorful patterns and shaped them into unique gowns, dresses, and separates you can easily imagine rocking a runway.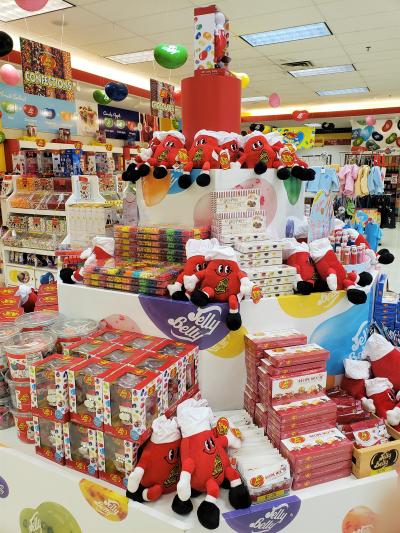 Round out your jelly bean bonanza at the Jelly Belly Candy Store, a panoramic shop filled with Jelly Belly jelly beans and other confections. Spend some time at the Sample Bar to try flavors of Jelly Belly jelly beans in the ever-expanding Jelly Belly universe. The Jelly Belly Candy Store has you covered on souvenirs and delicious gifts to take home.
Chocoholics rejoice! The Jelly Belly Candy Store includes a fudge counter with a variety of special flavors including pumpkin fudge in the fall and candy cane fudge for Christmas.
When you're ready to buy, treat yourself to your favorite flavors ― packaging them separately or mixing it up. For something truly unique, make sure you buy some bags of Belly Flops® which are irregular jelly beans that are uniquely shaped and sized but just as delicious.
Or for a non-traditional treat, take home the BeanBoozled® jelly beans, which makes for a hilarious and memorable game. BeanBoozled is a game of risk and the only way to tell if you're brave enough is to take a bite.
Know Before You Go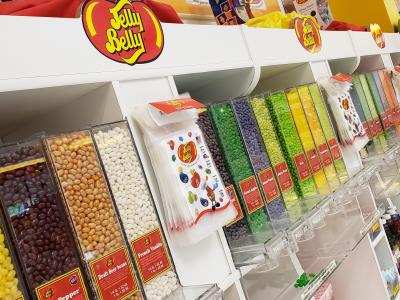 No matter your age, you will be the in kid the candy store exploring the world of Jelly Belly in Pleasant Prairie. Best of all, no ticket ― golden or otherwise ― is required to tour the Jelly Belly Wisconsin Visitors Center.
Free tours are available seven days a week from 9 a.m. to 4 p.m. excluding major holidays. You don't have to make reservations, but it's a good idea to call to make sure the Jelly Belly Center will be open when you plan to go.
Tours leave every 15-20 minutes on average, but wait times can increase during peak travel/holiday times.
The Pleasant Prairie Visitor Center is ADA accessible for guests' strollers and wheelchairs, and all videos have subtitles for the hearing impaired. Service animals are welcome!
The Jelly Belly Snack Bar has a snack and lunch menu chock full of savory items to complement the sugary samples you've tried on your tour.  Groups of 15 people or more may call ahead to make lunch plans.
Be on the lookout for special events which are posted on the Wisconsin event calendar. Special events may have a separate entrance fee, but that won't change the complimentary status of your tour.
The Pleasant Prairie Jelly Belly Center tour is an adventure into the world of gourmet jelly beans. Plan your trip today, and we'll see you on Jelly Belly Lane!