Fall is upon us! I can see and feel it already. This is my favorite time and I am excited to be able to photograph the most beautiful season of the year. Here's a quick list of four tips on WHEN-WHERE-WHAT-HOW for anyone who wants to attempt capturing the beautiful backdrop of fall colors in their family pictures. I know the struggle (especially when getting littles to all smile at the same time!) and have a few suggestions to make it a success.
Tip 3: WHAT
What to Wear - The hardest decision of the whole process. This question is asked the most and is often the biggest stressor for families. This event doesn't happen often and you want everyone to look their best. I will start out with the easy answer of what NOT to wear...summery clothes: shorts, tanks, sundresses. That is obvious but needed to be stated. Along those lines, pastel colors and white are off the table. Cream works, white does not! Now, on to the more complicated part of the answer to what TO wear. Color combinations vs the same color tend to work best. No matchy matchy, think complementary colors instead. Here are some no-fail color combos: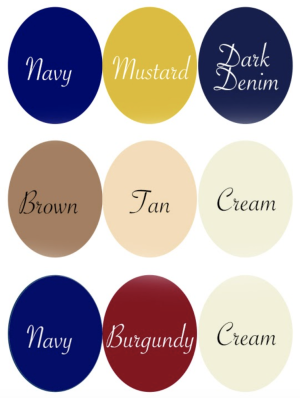 1.  Navy and Mustard Yellow with Dark Denim  
    2.  Coffee and Cream - a fancy way of saying Browns (any shades of brown) with Cream
    3.  Burgundy and Navy (throw in a touch Cream if you would like)
Can't find anything in your closet? You can head over to the Pleasant Prairie Premium Outlets and hit up Old Navy or Gap; they always seem to have coordinated clothing options for the whole family at affordable, discounted prices.
I hope these tips help and make you want to get outside this season to take great pictures with your family.