Triathlons
Pleasant Prairie is a top destination for big sporting events including triathlons.
Our athletic facilities and venues are diverse and unique in what we can provide to you and your family. Discover the best triathlons in the Midwest!
Conveniently located between Chicago and Milwaukee, our cherished Midwestern landscape is the perfect locale for races, fun runs, and other outdoor sports competitions. Participants are sure to enjoy the fresh air and lush surroundings. We challenge you to put our parks and waters to the test.
Annual Pleasant Prairie Triathlon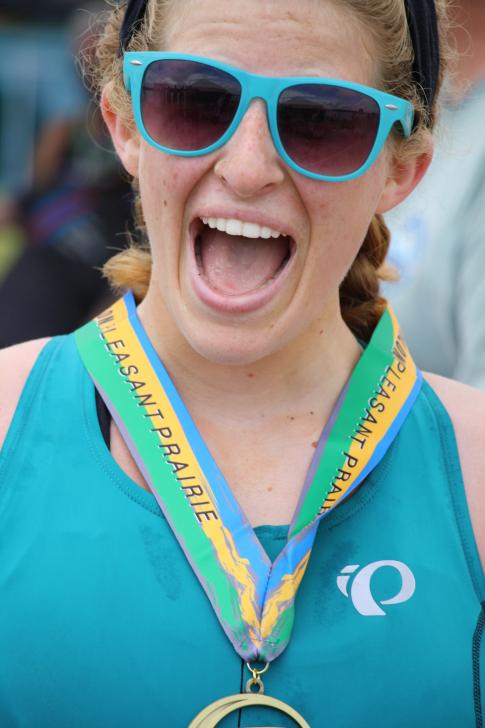 Each June, we host the Pleasant Prairie Triathlon, a great example of what Pleasant Prairie has to offer. The swimming portion of the race takes place in Lake Andrea, the clear waters of Prairie Springs Park. Lake Andrea is 110 acres of sparkling natural spring water, complete with a beach. Otherwise used for fishing, sailing, and windsurfing, triathletes look forward to both beginning and ending their 1500-meter swim on its well-maintained sandy shores.
Next is the 40-kilometer bike portion of the Pleasant Prairie Triathlon. For this section, we ride the picturesque country roads within the Village of Pleasant Prairie for the course. A mix of concrete and asphalt surfaces, the roadways both challenge and inspire dedicated cyclists. Notably, the new frontage road offers long straightaways and is the perfect terrain for any cycling event. Don't forget that Pleasant Prairie means pleasant views for your athletes!
For the final portion of the triathlon, runners take off down 10 kilometers of flat paths within the 930 acres of idyllic parkland. But where's the finish line? Why, it is strategically placed on the east shore of Lake Andrea, along a stunning lakefront path. (The paved path around Lake Andrea totals 2.3 miles.) Who wouldn't want to run a 5K, 10K, or even a marathon through all the luscious greenery Pleasant Prairie has to offer?
The Pleasant Prairie Triathlon has become a beloved fixture of summer life in Pleasant Prairie, WI. Your event (whether swimming, cycling, running or all of the above) is sure to benefit from the flexibility we have to offer.
For Developing Triathletes
In June, athletes with disabilities are invited to train at the RecPlex during the DARE2TRI triathlon camps — Learn2Tri and Train2Race. Learn2Tri is open to beginner-level athletes with few or no triathlon experience. Train2Race is open to athletes who have independently completed at least three triathlons without on-course guides, however visually impaired (VI) athletes using sighted guides are permitted to train at during this camp. Camp participants work with experienced coaches on race preparation, strategy and techniques, and improving skills in swimming, cycling, running/pushing and transition between disciplines. Following the Learn2Tri Camp is the DARE2TRI Tri It Triathlon, and following the Train2Race Camp is the Pleasant Prairie Triathlon.
The little ones can also join in the fun at the Pleasant Prairie Junior Triathlon. This event allows kids to participate in shorter races along the same scenic triathlon courses in Prairie Springs Park. Short or long, the options are limitless when it comes to designing courses within the park.
Wisconsin Women's Triathlon (formerly known as the Iron Girl Triathlon)
Each August, we are proud to welcome the Wisconsin Women's Triathlon (formerly the Iron Girl Triathlon). Designed to empower female athletes of all experience levels, including kids, this women-only race starts and ends in Prairie Springs Park. The swimming portion is conducted in beautiful Lake Andrea and the run ends on a trail beside the RecPlex fieldhouse.
Of course, the RecPlex is an asset in itself. The largest municipal recreation facility in the country, it houses a vast fitness center, a 1/6 mile suspended track, two NHL-sized ice rinks, and an Olympic-sized pool. Geothermally heated to 79 degrees, this 50-meter competition pool is paired with seating for 600 spectators. The versatility of this state-of-the-art facility means that triathlons can take place in any season and they do. 
Be sure to check out upcoming indoor triathlon dates. Pleasant Prairie, Wisconsin truly offers the perfect combination of tailored resources and Midwestern charm. The parkland, roadways, water features, and indoor facilities are sure to make your race a complete success. Pleasant Prairie is a place where both memories and champions are made. 
Contact us today to start planning an athletic event of epic proportions.