Weather in Pleasant Prairie
Embrace the best each season has to offer by visiting Pleasant Prairie. Join us in celebrating sunny days and picturesque snows!
Summer is a fantastic time in the midwest. The sun sets late, but there are never enough hours for all the warm-weather fun around the Village. It's time for swimming, kayaking, fishing, and frolicking (or relaxing) on the beach at Lake Andrea. Children can race to catch fireflies while dogs parade around Ingram Park.
Fall is an occasion, colorful and glorious. When the foliage turns an array of yellows, reds, and oranges, the air here is crisp, and the temperatures mild. Why not take in the autumnal colors with a scenic stroll through Prairie Springs Park? Make the most of the season by perusing area honey and produce. It'll be time to carve a pumpkin before you know it.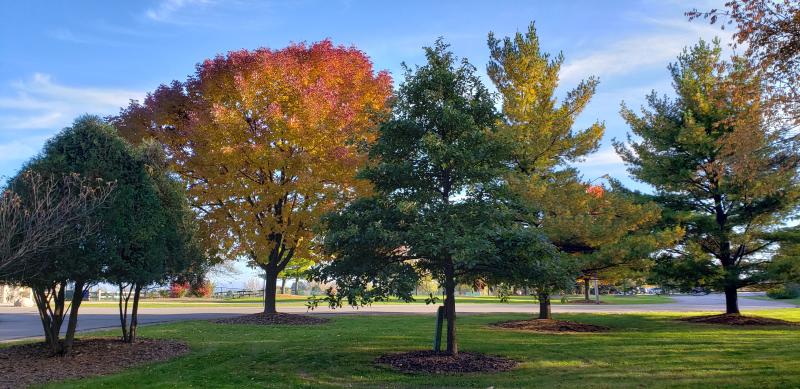 Winter is a celebration. It is a time for bonfires, the chilling scent of evergreen, and maybe even a snowball or two. We are grateful for sparkling white expanses and the crunch of snow under our feet. Experience winter at its best and enjoy the rush of sledding or the contemplative experience of ice fishing. And there are plenty of ways to stay active: Load up your board and sail and enjoy Lake Andrea's beauty as you ice-surf; bring along your snow-shoes or cross country skis and check out the trails.
Spring is a time of renewal. Our many parks come alive as flowers bloom. The landscape is lush and green. The Chiwaukee Prairie, a uniquely natural habitat, bustles with rare birds and wildlife. Plus, there's no need to miss the ice as you skate around the NHL-sized rinks at our legendary RecPlex.
Truly an example of the midwest at its best, the weather in Pleasant Prairie makes every time of year unforgettable.