Pleasant Prairie HarborMarket
What to Expect at Pleasant Prairie HarborMarket
Will Lake Andrea Beer Garden Be Open During HarborMarket Hours?
---
Are Dogs Allowed At Pleasant Prairie HarborMarket?
---
Where should I park for the Pleasant Prairie HarborMarket? 
Visitors are encouraged to enter the park from State Highway 165 and take a left onto Park Drive to reach the Pleasant Prairie HarborMarket site. There is nearby free parking, with a free handicap-accessible shuttle bus operating from the LakeView Technology Academy parking lot.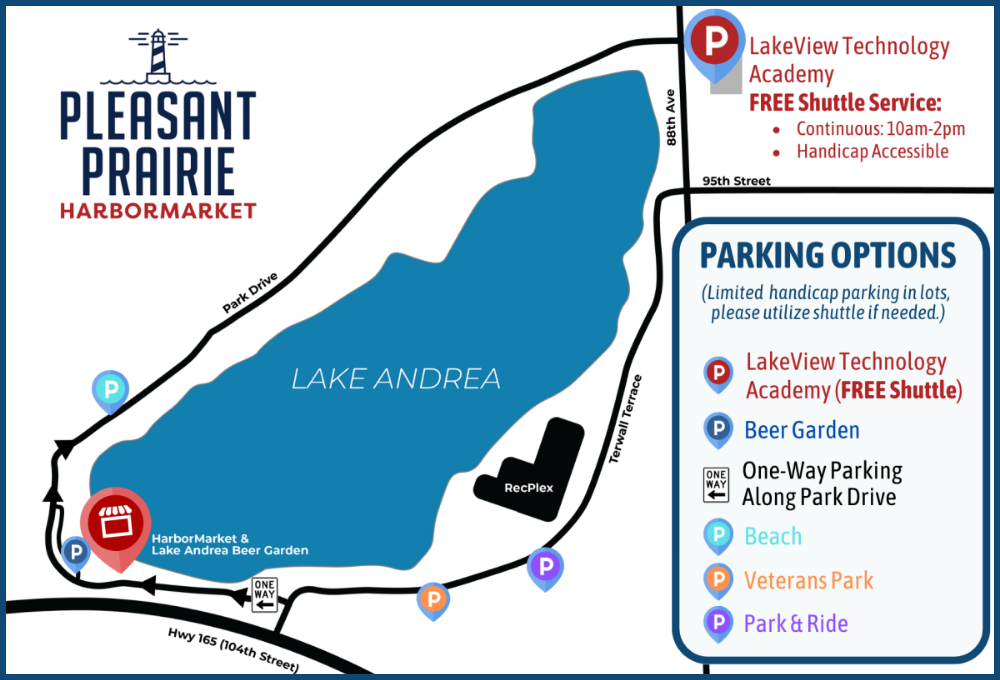 ---
About Pleasant Prairie HarborMarket 
ONE MORE DATE! Join us for one last 2023 HarborMarket on Sunday, September 23 as part of Pleasant Prairie Harvest Fest! 
Visit Pleasant Prairie is collaborating with the award-winning Kenosha HarborMarket for the Pleasant Prairie HarborMarket this summer on the western shore of Lake Andrea in Prairie Springs Park, 10023 Park Drive, Pleasant Prairie. 
"We are thrilled to make available the fresh produce, handmade foods and handcrafted items to Pleasant Prairie," Andrea Forgianni, executive director of Kenosha HarborMarket said. "I know that Pleasant Prairie residents and visitors to the area are going to enjoy the new Pleasant Prairie HarborMarket."
There will be more than 50 vendor booths that will offer items such as produce, eggs, meat, cheese, lots of prepared foods, baked goods, soaps and body care products, jewelry and other artisan creations. There will also be on-site knife sharpening and much more.
"We're thrilled with the collaboration from Andrea and her team to see this Special Event Initiative come to fruition," Sarah Howard, executive director of Visit Pleasant Prairie, said. "Every aspect of planning this inaugural farmer's market season in Pleasant Prairie has been genuinely fun because each meeting we would develop a new, unique addition to the event. We look forward to welcoming everyone when they visit!"