Tournaments and Championships
Pleasant Prairie, Wisconsin is an athlete's paradise.
We offer the perfect combination of internationally acclaimed indoor facilities and the outdoor landscape for your tournament needs. Conveniently located off of I-94 between Chicago and Milwaukee, while also settled on the shores of Lake Michigan, Pleasant Prairie offers the resources you need and a proven tournament and championship track record to back it up at the largest municipally-owned recreation facility in America!
Swimmers Unite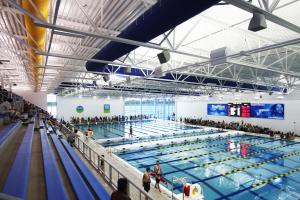 We take swimming seriously here in Pleasant Prairie. Consider the Central Zone Open Water Championship, for example. This event takes advantage of 110 acre Lake Andrea in Prairie Springs Park. A natural spring-fed lake with sandy shores, Lake Andrea is a divine spot for a dip or a race to the finish line. It was also the site of the first-ever UANA Pan American Junior Open Water Swimming Championship for the western hemisphere in July 2019. Outdoor swimming events often make use of the showers and locker rooms in the nearby, state-of-the-art RecPlex facility.
Speaking of the RecPlex, you'll have difficulty finding a better spot for an indoor swim meet than the RecPlex pool, the home of the Pleasant Prairie Patriots swim team. Just ask Speedo Elite, who uses the 50-meter Olympic-sized competition pool for their meets. With seating for 600 spectators, the pool is geothermally heated to a constant 79 degrees and is treated with UV light. Over the past ten years, our competition pool has received numerous awards, including "Best of the Midwest."
On The Ice
But the RecPlex isn't just a pool. As the largest municipal facility in the country, it features not one, but two NHL size ice rinks. We are proud to host the annual Autumn Ice Classic here, an individual and synchronized ice skating competition. The ice arena has also been the location of CCM Elite Youth hockey tournaments. Take advantage of the spacious size (79,000 square feet) and top notch facilities the RecPlex ice arena has to offer.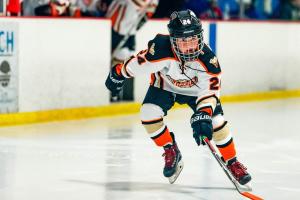 RecPlex Fieldhouse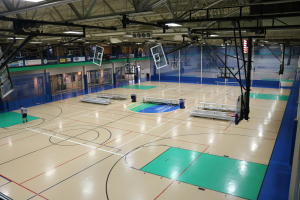 Of course, the RecPlex center doesn't just cater to swimmers and skaters. RecPlex is home to the Wisconsin Juniors Volleyball Club President's Day Tournament, the Adidas and various youth and community basketball tournaments. With the ability to break out into eight full-size basketball courts, the options are limitless. Maybe you are interested in the fitness center that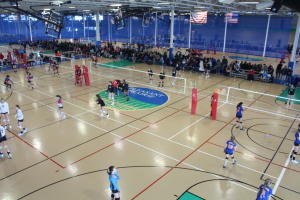 overlooks Lake Andrea. Our premier facilities for basketball, volleyball, dodgeball, fencing, racquetball, pickleball, and just about any sport you can imagine will surely pique your interest in hosting it in Pleasant Prairie.
Triathlons
Several triathlons are held annually in Pleasant Prairie, taking advantage of both the RecPlex and the natural terrain. Every June brings the Pleasant Prairie Triathlon and the Pleasant Prairie Junior Triathlon, in and around Prairie Springs Park and beautiful Lake Andrea. The picturesque roads of the Village of Pleasant Prairie suit cyclists well, and the flat paths of Prairie Springs park were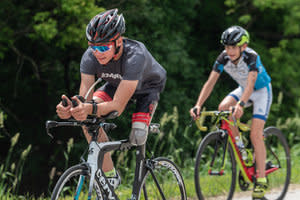 designed with running in mind. In August we are home to the Iron Girl Triathlon, a unique event focused on empowering women.
Festivals and More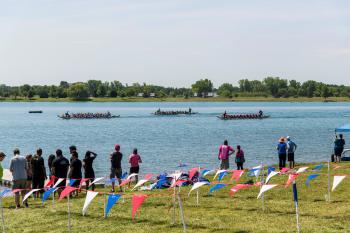 Perhaps you have a different type of competition in mind. After all, not every race is on foot. The American Dragon Boat Association holds its bi-annual regional championships on Lake Andrea and has become an annual event with community support which is now referred to as the Lake Andrea Dragonfest. We are also home to a US Title Series outboard racing program for three days in May.
Any tournament or championship would benefit from the natural Midwestern landscape and unbeatable indoor facilities found only in Pleasant Prairie, Wisconsin. We have hosted races, triathlons, hockey tournaments and more, and are ready to bring that experience to your next event. Contact us today to start planning something big!