Six Flags Great America
Just 15 minutes away from affordable Pleasant Prairie hotels, Six Flags Great America offers a fun family attraction guaranteed to astound and amuse. In addition to thrilling rides and waterslides, the park provides electrifying live shows and entertainment. 
Plan Your Visit To Six Flags
Did you know that Six Flags Great America now has FREE WiFi throughout the park? Simply connect to the "SixFlagsGuest" WiFi network in your phone's settings and input your email address to gain access to our free WiFi.
Don't forget to download the official Six Flags app to get the most out of your next visit to the park by:
Ordering food from a mobile device takes less time and requires no contact.
Use interactive maps to help you find your way around the park.
Purchase tickets, parking, and meal bargains, among other things.
Use restaurant menus to plan your meals.
Check the park's hours of operation.
Find information about forthcoming special events.
Discover everything there is to know about our rides, restaurants, and stores.
Make contact with your company to organize a group outing.
 
Perks for Passholders Only
For quick entrance, save up to 15 passes for family and friends on your phone.
View and use your pass holder privileges.
Access to each Six Flags Great America and Hurricane Harbor
 
Thrill Rides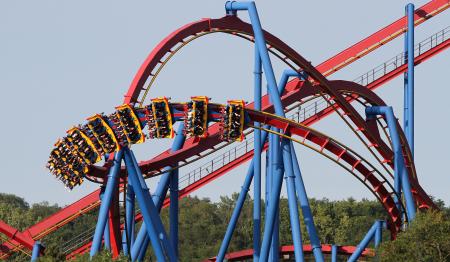 Welcome to the premier theme park experience for thrill-seekers and adrenaline junkies alike. Rollercoaster aficionados will jump at the opportunity to ride the new Maxx Force, a triple-record-breaking ride.
The Maxx Force has the fastest launch time and inversion of any coaster, in addition to the tallest double inversion around! Eager to test your courage? See if you can conquer the Goliath, a wooden roller coaster that features the tallest, steepest drop of any ride in the world. You'll plunge 180 feet in a heart-racing free fall before banking into high velocity turns and head-over-heels inversions.
Family Friendly 
The park features a variety of family-friendly rides that will inspire wonder and delight in kids and grown-ups alike. Float on the Big Easy Balloons, or whirl about on the whimsical Columbia Carousel, a two-level carousel with ornately carved chariots, horses, and animals in a menagerie of old-fashioned elegance. This is just the beginning — Six Flags Great America offers a wealth of magical rides perfect for the whole family.
Water Park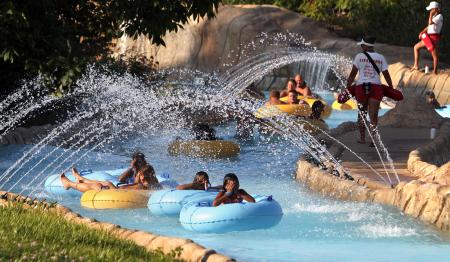 Looking to beat the heat? Splash-down into Hurricane Harbor Chicago, an excitement-soaked waterpark at Six Flags Great America. Coast with the whole family down Castaway Creek, a relaxing lazy river ride that will give you a tour of the park.
Challenge the family to a race for the ages on the Wahoo Racer, a head-first toboggan ride down an ultra-slick track with twists and turns galore. When you're ready for intensity, blast off on the Mega Wedgie, and plunge five stories at 40 mph into a refreshing blast of cool water.
Hurricane Harbor Chicago is adjacent to Six Flags Great America and requires separate admission, however Pass Holders receive admission to Six Flags Great America and Hurricane Harbor Chicago.
Entertainment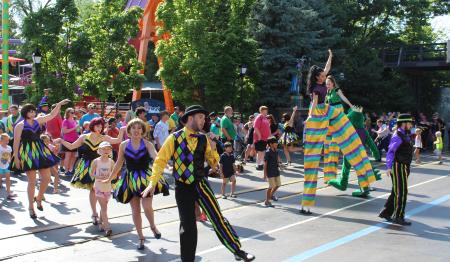 As if their breathtaking rides were not enough, Six Flags regularly hosts special events and live entertainment guaranteed to enchant the whole family. Experience Party Gras, a New Orleans style interactive dance fest with a bright, colorful parade and jazzy, up-tempo music. Or gather in Hometown Square in the evening, and marvel at the scintillating light show and choreographed dance routines of the nightly Block Party. You and the family may even want to take to the floor yourself!

Food and Shopping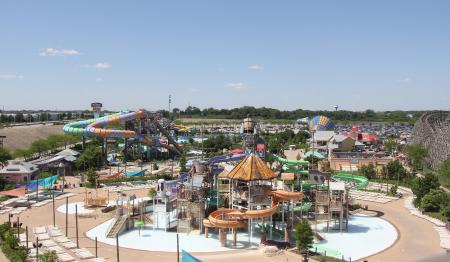 When it's time to take a break from the excitement, Six Flags Great America serves up delicious food and cool beverages. Sit in the shade with your family and enjoy a snack of pretzels and popcorn, or feast on burgers and pizza. The park also offers lighter fare sure as salads and wraps for health-conscious adventurers. Whether you're looking for that perfect souvenir or need to pick up some sunscreen, the park offers several convenient shops with Six Flags Great America gear and vacation necessities.
Hotels Near Six Flags Great America
A short 15-minute drive to Six Flags Great America, Pleasant Prairie makes the perfect place to lay your head before and after a day of adventure. Your family will enjoy free breakfast, indoor pool, and free Wi-Fi at Holiday Inn Express & Suites and Fairfield Inn & Suites by Marriott. The Days Inn and Super 8 by Wyndham are comfortable for people and pets alike  Newly renovated and the area's only full-service Hilton, Doubletree offers a variety of rooms, many amenities, accessibility features for guests with disabilities, and adjacent access to the Pleasant Prairie Premium Outlet Mall. Learn more about Pleasant Prairie hotels

Whether you crave sensational rides, family-friendly entertainment, or want to cool down with wet and wild adventure, Six Flags Great America is the place to be.