Trails in Pleasant Prairie
Explore. Wander. Refresh.
The hiking and biking trails of Pleasant Prairie, Wisconsin are the perfect place for you to stretch your limbs, breathe fresh air, and get the exercise your body craves. Whether you are in the mood for walking or biking, running or rollerblading, we have something for you.
Local Trails in Pleasant Prairie
Prairie Springs Park
Here in Pleasant Prairie, we are enormously proud of Prairie Springs Park, more than 900 acres of parkland located on the west side of the Village. In addition to its playgrounds, lakeshore beach, and archery range, Prairie Springs Park contains bicycle and pedestrian trails, making it an ideal spot to get some exercise together as a family. There is always plenty to see and friendly people to meet along your way.
You won't want to miss the popular (and paved) multi-use path around Lake Andrea. Here you can teach your little ones to ride a bike, head out for a race, or simply enjoy a casual stroll.
Or you may venture out on Hackbarth Trail, which branches into a series of naturally surfaced or wood chipped trails, starting from the Lake Andrea beach pavilion and heading northwest through the woods and wetlands. Hackbarth Trail extends two miles including access to an observation deck overlooking the wetlands as well as a boardwalk and bridge over the Des Plaines River, looking out toward the Jerome Creek Preserve.
The trailhead for Prairie Farms Trail is in the northern part of Prairie Springs Park. Prairie Farms Trail is a crushed stone biking path that extends north toward County Highway C just west of Bain Station Road. Two miles long and bounded by farmland to the east and Des Plaines River Floodplain to the west, Prairie Farms Trail is an excellent way to reach Prairie Springs Park and continue your trail adventures around Lake Andrea or into the woods on Hackbarth Trail.​
Parks and Gardens
Your visit to Pleasant Prairie doesn't have to be all about appointments, competition, or business. You'll want to make time to relax and explore one of the numerous other parks and gardens in Pleasant Prairie. For example, our very own Ingram Park contains a walking trail around a beloved fishing pond and two fenced-in dog parks. Village Green Park, a 29-acre community park, also offers a walking path. So pack a picnic lunch and get ready to enjoy the sights and sounds of the great outdoors, here in Pleasant Prairie. We're happy to help you get your steps in for the day!
Chiwaukee Prairie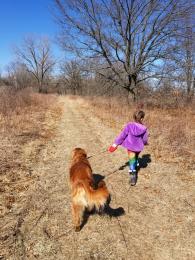 If you are seeking something more off the beaten path, you won't want to miss our very own National Landmark, Chiwaukee Prairie. A vital ecosystem, Chiwaukee Prairie is the intersection of rolling fields, shady oaks, sandy dunes, rare wetlands, and Lake Michigan Shoreline.
It is a unique chance to see a Midwestern landscape in its natural, untouched state. Walk among wildflowers as you witness birds and other endangered wildlife in their habitat. Time in Chiwaukee Prairie is a hike you won't soon forget.
While in Chiwaukee Prairie, don't forget to head to the Kenosha Sand Dunes Trail which takes you on a two-mile mile trek through the Dunes. Formed more than 13,000 years ago when Lake Michigan receded, this unusual topographical feature is a must-see for nature lovers.
Trails in Nearby Kenosha
Only a hop, skip, and a jump from Pleasant Prairie is our lovely neighbor to the east, Kenosha, Wisconsin. While visiting, adventurers are sure to find a new twist to their exploration on the Kenosha County Bike Trail, a former railway corridor. Directly accessible from our own Rolling Meadows Park, this 14-mile long path is an ideal trek for any cyclist.
Divided by the city center into two sections, the northern part of the trail extends away from Kenosha, becoming increasingly rural as you head north. The southern section (approximately 3.66 miles) heads down to the state line. (If you keep going, you can even continue on the Robert McClory Bike Path into Illinois.) And yes, since the Kenosha County Bike Trail is dog-friendly, you are welcome to bring Spot along for the ride.
It's time to pump those tires and fill your water bottle – you are about to begin an adventure of your own design. The hiking and biking trails of Pleasant Prairie are waiting for you. What are you waiting for?