Lake Andrea Beer Garden
Thank you for a great first season!
The Lake Andrea Beer Garden is now closed for the season.
We hope to see you again next summer for more brews and fun in the sun! ☀️
---
Location
10023 Park Drive, Pleasant Prairie, WI
Located within Prairie Springs Park on Lake Andrea
Hours of Operation
CLOSED FOR THE SEASON
Come see us again in Summer 2024!
Lake Andrea Beer Garden offers a variety of seasonal beers, IPAs, lagers, and so much more. Plus, it's not just beer on the menu! The menu also includes wines, craft cocktails, and non-alcoholic beverages.
Our kegs have been emptied and we're now closed for the fall, winter, and early spring. A huge thank you to everyone who came out for our inaugural season at Lake Andrea Beer Garden!
Be sure to check back here in the late spring for a beverage lineup for the 2024 season.
Food Trucks
Popular food trucks can be found at the beer garden whenever it's open, offering delicious food options to pair with your drinks! In addition to food trucks, a selection of chips and other snacks are available for sale at the Lake Andrea Beer Garden.
If you're interested in vendor space for your food truck during the 2024 season of Lake Andrea Beer Garden, please reach out! 
When will Lake Andrea Beer Garden re-open for 2024?
Is there live music or other entertainment at the Lake Andrea Beer Garden?
Are Dogs Allowed at the Lake Andrea Beer Garden?
Is the Lake Andrea Beer Garden Kid-Friendly?
Is the beach located near Lake Andrea Beer Garden?
---
About the Lake Andrea Beer Garden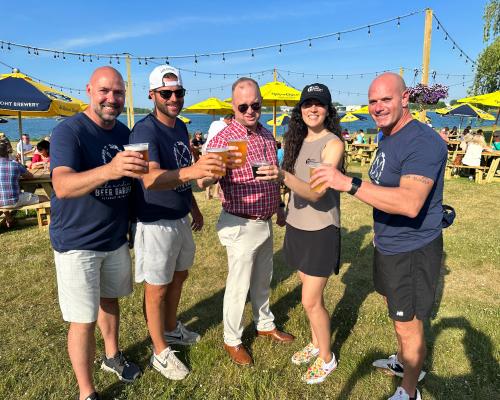 This highly anticipated establishment is run by Michael Grab, Anthony DeBartolo, and Mike Honald – three veterans of the Kenosha County food and drink industry, and is supported as a destination development project of Visit Pleasant Prairie. 
The Lake Andrea Beer Garden plans gained traction in the summer of 2022 after Visit Pleasant Prairie organized a pop-up beer garden event on Lake Andrea. Encouraged by its success, Visit Pleasant Prairie continued to advocate for a permanent beer garden on the lake, joining forces with the Village of Pleasant Prairie to develop the formal plan. Eventually it led into the landmark agreement negotiated by Visit Pleasant Prairie for the outcome of this year's Lake Andrea Beer Garden operation with a long-term agreement to ensure that this attraction remains a steady establishment for the community and for visitors to enjoy for years to come.
"After over a year of dedicated work, we are so excited for this project to become a reality," said Sarah Howard, executive director of Visit Pleasant Prairie. "Prairie Springs Park has already established itself as a beloved destination to experience in all seasons. With the introduction of a beer garden, we are taking the park's appeal to new heights, further enriching the experience for both visitors and residents of Pleasant Prairie."
This season, the beer garden will be situated in the pavilion at Prairie Springs Park Picnic Site 2, with ongoing preparations for constructing a permanent beer garden structure in progress for 2024.
"Our goal has always been to build a tight-knit community," said Mike Grab, owner of the Lake Andrea Beer Garden. "We didn't care to wait on infrastructure and designer buildings. That will happen soon, but we want to enjoy this summer. We said, 'Let's throw together some picnic tables and start appreciating what we have now.'  A simple joy in life is a cold drink on a hot summer day."