Pleasant Prairie locals know that our area restaurants serve some of the most delectable chicken dishes in all of Wisconsin! Our chefs and cooks are delighted to offer poultry classics like Chicken Cacciatore and Nashville Hot Chicken. Kids (and grownups) can look forward to a variety of finger food options. Visiting foodies, don't miss the Wisconsin-born regional favorite that we discuss at the end of this article!
Chicken classics in beautiful Pleasant Prairie WI
Keep your bottle of hot sauce home when dining on these dishes!
¡Pollo a la Iguana Wana! (It has not one, but two exclamation marks, so you know it's a spicy one!) at Iguana Wana Mexican Grill & Tequila Bar features a tender breast of ORGANIC chicken smothered with their spicy chipotle chile sauce and melted Chihuahua cheese. Served with soft corn or flour tortillas, Mexican rice, and refried beans. 
Hen–orable mention:
Cluck Norris wings (we recommend their dynamite sauce) - $9.99 - Johnny'Z Pour House
Cluckin' good chicken sandwiches
Kids, cluck if you love finger foods!
Our featured finger food is the La Fogata Nachos with Chicken Tinga - $12.99 - from El Camino Kitchen. This pull-a-part dish includes tortilla chips, refried beans, melted chihuahua cheese, lettuce, pico de gallo, sour cream and guacamole. If Chicken Tinga isn't your thing, try the nachos with ground chuck or Puerco Salsa Verde. Explore the El Camino Kitchen menu.
Hen–orable finger food mentions:
Pepper Jack Chicken Nachos - $12.99 - Milwaukee Burger Company
Roasted chicken and Potatoes with soup or salad - $11.99 - Ruffolo's Pizza
Warm your feathers with some delicious chicken soups
If you miss the Chicken Tortilla Soup at El Camino Kitchen, you'll be saying qué lástima (what a shame)! Grab a cup for $3.49 or a bowl for $4.49.
Our friends at Rufflo's Pizza offer a wide variety of chicken soups, including Chicken Noodle Soup,  Tuscan Chicken Soup, Cream of Chicken-N-Rice and Chicken Tortellini.
Chicken salads that even Dad can endorse
Wisconsin might not be known for salads, but here are a couple delicious options for when you're craving something green!
The El Camino Salad - $12.99 - from El Camino Kitchen features romaine lettuce, chicken breast, avocado slices, fresh mango, pico de gallo, queso fresco, cilantro and chipotle ranch.
Pecanwood Smoked Bacon & Fajita Chicken Salad - $11.99 - Milwaukee Burger Company
South of the border chicken favorites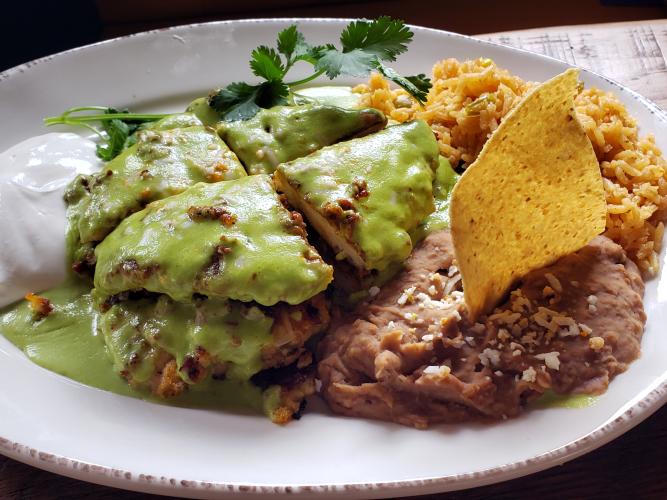 Pollo Gordo from El Camino Kitchen
Our featured south of the border favorite is definitely the Pollo Gordo - $18.99 - from El Camino Kitchen. This beyond-tasty dish includes panko-crusted chicken breast stuffed with chorizo and chihuahua cheese. It's topped with poblano cream sauce and served with tortillas, sour cream and Mexican rice and beans.
Hen–orable mentions:
Organic Chicken Fajitas - Iguana Wana Mexican Grill & Tequila Bar
Drunken Chimichangas with Chicken Tinga - $12.99 - El Camino Kitchen

A Wisconsin-born favorite sure to Beak your interest
The Village of Pleasant Prairie boasts some truly unique chicken dishes, but we're excited to dedicate this category to one of our absolute favorites, the Chicken Dinner with Mojos. Catch this regional favorite at Ruffolo's Pizza.
The Chicken Dinner with Mojos is a steal for $9.99. This chicken is worth a trip to Pleasant Prairie all by itself. Potato wedges and regional fried chicken have never tasted so good!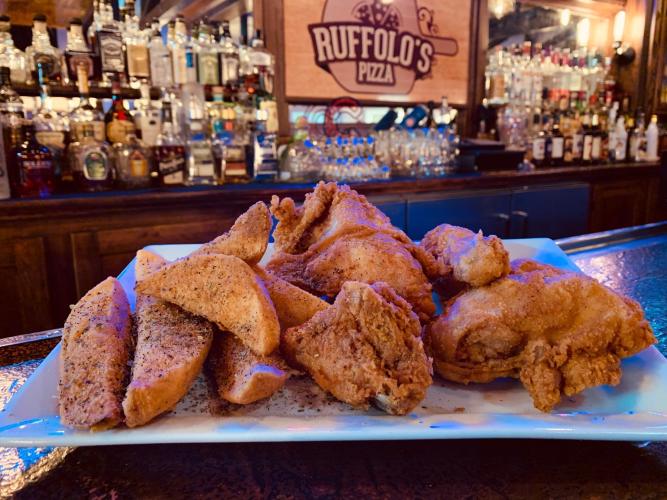 Chicken Dinner with Mojos from Ruffolo's Pizza
Diners from all around head to Ruffolo's for chicken that hits all the notes: golden brown, crunchy, juicy and salty.
Parting words before we fly the coop
Although we only mentioned a few dishes from three of our local restaurants, this article is by no means comprehensive! The Village of Pleasant Prairie has TONS of distinct and delicious chicken dishes. Head to our restaurants page to explore more of your options.
Some of the incredible chicken dishes mentioned above are seasonal or periodic specials, so be sure to call ahead to your restaurant of choice to make sure they are serving the chicken dish of your dreams!