It's not often that I'm completely taken by surprise when entering an establishment - but that's right where I found myself recently after entering Milwaukee Burger Company in Pleasant Prairie. This family-run restaurant is a hidden gem in the Village - and you definitely don't want to miss it.
Typically you can tell what a place is going to look and feel like from the outside - not that I'm necessarily judging, but you've been there. You look at a place from the outside and it 'feels' small - lo and behold you walk in and it is. Or you 'feel' like the lighting is going to overwhelm you just from looking in the windows - and, of course, it does.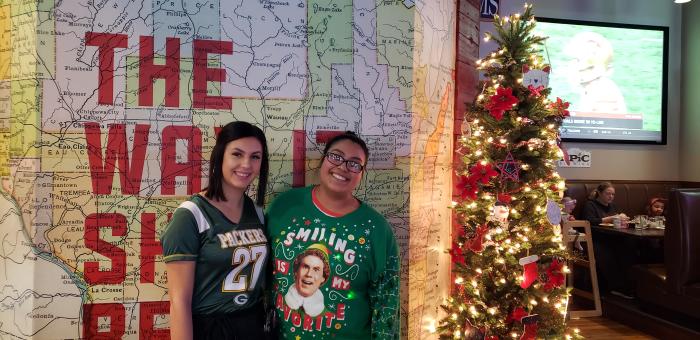 Prepare to be wowed by the Milwaukee Burger Company! It certainly didn't hurt to be greeted by two amiable hostesses/servers that smiled warmly and welcomed us in. The ambiance inside was genuinely comfortable. While there are TVs everywhere above and around the centrally located bar, they didn't feel obnoxiously in your face. When I commented on how they were far busier than I anticipated for a Sunday at 1:30 PM (without a Packers game to watch), both chimed in that we should see the crowds on a Friday or Saturday.
Our server, Danielle, simply added to our experience. She was friendly, informative - and didn't hold back when asked about drink or menu suggestions. Her favorite? The brown sugar bacon (that sounds like it can be added to just about everything) definitely swayed my opinion about which Bloody Mary to get. The Bacon Bloody it was!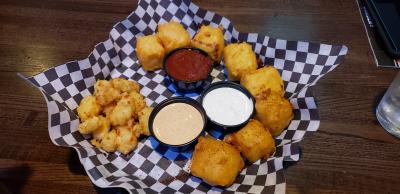 When she suggested cheese curds for an appetizer, I couldn't have anticipated the taste explosion I was about to enjoy. Mind you, I enjoy cheese curds with the best of them - but you don't always get the light, fluffy, gooey ones that leave you wanting for more - and yet here we were. Our platter had deep fried curds, jalapeno cheese, and cheddar cheese. The batter was light and fluffy and didn't take away from the exceptional flavor. It surely didn't hurt that the chipotle ranch and ranch dips are made fresh in-house (like all their sauces).
Then it was on to the chicken avocado on a brioche bun sandwich - YUMM - with a variety of sides available, I chose the sweet potato fries which were a solid choice. The sandwich was more taco-like than sandwich. They gently fold the grilled brioche around the chicken, salsa, garlic mayo, and cheddar-jack cheese making for a unique way to savor the flavor. By that point, of course, I was too full of tomato juice and cheese to finish my whole sandwich. SO I can also attest that the left-over version of this meal was equally as good after warming in the oven.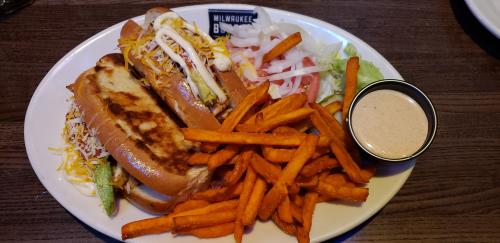 From hospitality to atmosphere and variety of menu items to tastiness, Milwaukee Burger Company gets my vote as a must-dine-at restaurant in Pleasant Prairie! Be sure to check out their array of craft beers while you're there. (Kids menu also available - and extremely affordable!)