Let's face it. The world is full of things that can hurt us – but that doesn't mean we shouldn't live our best life. Of course, we should be diligent and take precautions where necessary, but we've still got to get out there and do things. 
Winter is in the rearview mirror and spring is quickly approaching. As cabin fever takes over and the need to get out sets in, perhaps crowded places aren't where you want to be. It's time to check out places and activities that get you out there – but where you still feel like you have space...and Pleasant Prairie is just the place to be! 
A variety of outdoor locations throughout the Village provide you with the opportunity to breathe fresh air and take in the beauty of our area. From internationally acclaimed prairies to winding trails, you'll find plenty to do.  
As Chiwaukee Prairie begins to bloom in late spring/early summer, it's an amazing place for bird watchers, young nature lovers, and pollinator enthusiasts. Be sure to check out the unique Kenosha Sand Dunes whether on foot or bike.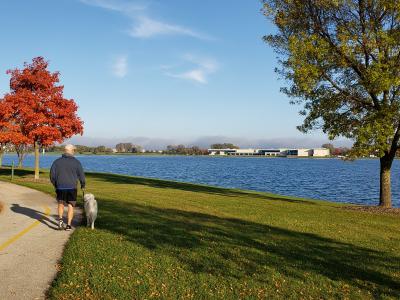 Runners, bikers, rollerbladers, and even those seeking solitude outdoors, will love Prairie Springs Park. Whether you enjoy Lake Andrea from the 2.3 mile paved walk/bike path, traverse the Hackbarth Trail over the Des Plaines River or enjoy a stroll along Prairie Farms Trails, you won't be disappointed by the view. Once summer rolls around and the ice has thawed, you should check out Froggy's Landing and enjoy some time out on the lake in a rented kayak, canoe, or paddleboard. 
Nearby, Bristol Woods Park offers the adventurist in you the opportunity to challenge yourself as you zipline, swing, balance, and climb your way through the treetops at Boundless Adventures. Opening in 2020 on Good Friday, it's a great way to recharge.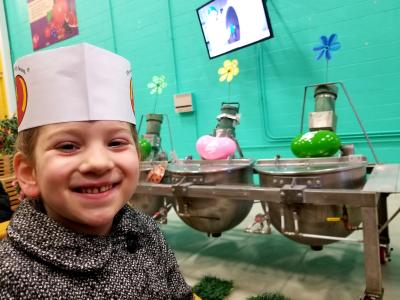 Still need more adventure? Once things get back to normal and COVID-19 loses its hold on the area, be sure to visit Jelly Belly Candy Store and take a train tour of the warehouse where you'll be blown away by jelly bean portraits and samples of all your favorite flavors. Train tours of the Jelly Belly warehouse have temporarily been suspended but the Jelly Belly Candy Store is still open. Be sure to check out their temporary hours before you visit.
And don't let crowded shopping malls get you down. You can take care of all your clothing, accessory, and makeup needs at our outdoor shopping centers: Pleasant Prairie Premium Outlets and the Shoppes at Prairie Ridge.  
Get out, get moving, and enjoy the air that you breathe in Pleasant Prairie! 
[edited 9/2/20: Author's Note: Jelly Belly Candy Store announced it's closing in August 2020. Sale ends September 30, 2020.]